We previously detailed how Tuesday's large explosion at Russia's Saky air base deep within Crimea immediately set off speculation that Ukraine's military could have just launched its boldest attack yet of the six-month long war. Ukraine's government has been sending mixed signals. On an official level Kiev has denied being behind a possible missile strike or sabotage attack, but The New York Times cited an unnamed senior Ukraine defense official who took responsibility. 
Widely circulated social media videos of the huge explosion appeared to show multiple 'impact' locations, leading to speculation of an external Ukrainian attack. However, as the BBC reports Wednesday: 
Russia's defense ministry insisted the blasts were down to ammunition that had exploded in a store and that there was no "fire impact" from outside - although this has not been independently verified.

And Ukrainian presidential aide Mykhailo Podolyak denied that Ukraine was behind the blasts, telling the Dozhd online television channel: "Of course not. What do we have to do with this?"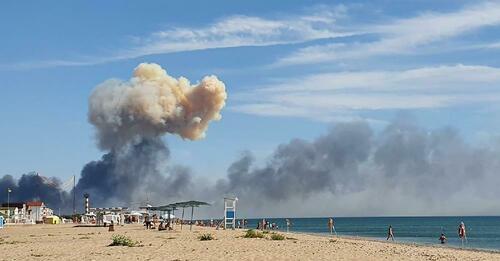 Image: Associated Press
Despite this formal denial, speculation persists, especially following what appears to be leaked video clips purportedly from inside Saki air base surfaced, showing widespread destruction from the blast, including charred military aircraft. 
Ukraine's president Volodymyr Zelensky in his nightly address also sent mixed signals. While not directly mentioning Tuesday's blast, he said, "Crimea is Ukrainian and we will never give it up."