A federal court in Florida has removed the webpage for the judge who signed off on the FBI raid of former President Donald Trump's home.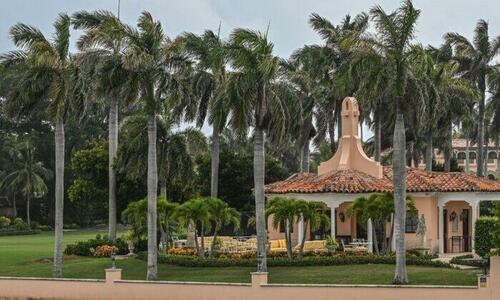 Former US President Donald Trump's residence in Mar-A-Lago, Palm Beach, Fla., on Aug. 9, 2022. (Giorgio Viera/AFP via Getty Images)
The page for U.S. Magistrate Judge Bruce Reinhart was taken down on Aug. 10, archived versions of it confirm.
"No information at this time," the computer operations manager for the court, the U.S. District Court for the Southern District of Florida, told The Epoch Times.
A deputy clerk for the clerk did not pick up the phone or return a voicemail.
The page contained Reinhart's biography, his email address, directions to the courthouse at which he works, the phone number for his chambers, the number for his deputy, and the names of the deputy and the judge's law clerks.
The pages for all of the other magistrate judges for the court remain online.